AHEC News
Updates from NEMT AHEC
MedStart Application Available
January 18, 2018
MedStart Camp 2018 applications are out and ready for completion. Please click this
link to access the application.
Positive Approaches to Care
January 18, 2018
Please see brochure to learn valuable information and to register for this conference. Positive
Approaches to Care
Community Care and Safety of the Older Adult
December 29, 2017
Community Care and Safety of the Older Adult
Registration
Continental Breakfast and Lunch included.
REGISTRATION DEADLINE: March 29, 2018
Name: ________________________________
Facility: _______________________________
Mailing Address: ______________________________________
______________________________________
Phone: ________________________________
Email: _________________________________
OPTIONS TO REGISTER
1)Mail payments and registration to:
Rural Health Development
519 Pleasant Street
Miles City, MT 59301

Continuing Education Credits Available:
Montana Health Network is an approved provider of continuing nursing education by Montana Nurses Association, an accredited provider by the American Nurses Credentialing Center's Commission on Accreditation. 7.0 Contact Hours

This activity has been planned and implemented in accordance with the accreditation requirements and policies of the Accreditation Council for Continuing Medical Education (ACCME) through the joint providership of St. Vincent Healthcare and Riverstone Health. The St. Vincent Healthcare is accredited by the ACCME to provide continuing medical education for physicians.

St. Vincent Healthcare designates this live educational activity for a maximum of 8.0 AMA PRA Category 1 Credits.™ Physicians should claim only the credit commensurate with the extent of their participation in the activity.

AGENDA
Thursday, April 12, 2018
6:00 - 6:30 pm: No host bar & networking
6:30 - 8:30 pm: Wound Care and
Prevention in the Older Adult-Dinner
Dr. Timothy Dernbach-St. V's Wound Healing Center
Friday, April 13, 2018
8:00 - 9:00 am: Montana Alzheimer's and
Dementia State Plan
Miranda Meunier, NP – Billings Clinic
9:00 - 10:00 am: Pharmacology and
Polypharmacy concerns in the Older Adult
Dr. Ali Brock-Gerontology, RiverStone Health
10:15 - 11:15 am: Dementia vs. Delirium
Dr. Charlotta Eaton – Retired Nephrologist and Palliative Care Physician
11:15 - 12:15 pm: Treating for Depression in the Older Adult – Medications and Modalities
Carla Cobb, PharmD, BCPP and
Sandi M. Larsen | M.Ed., LCPC, LAC Director of Behavioral Health
RiverStone Health
12:15 - 1:15 pm: Lunch (provided)
1:15 - 2:15 pm: Chronic Pain
Amy Roberts, MD – Resident Physician at
RiverStone Health
2:15 - 3:15 pm: Bowel and Bladder Concerns in the Older Adult
Dr. Karin Dolan-Urology, Billings Clinic
3:30 - 4:30 pm: Geriatric Safety While Aging in Place
Dr. Yee Ang-Gerontology, Billings Clinic
Target Audience: Physicians, Physician Assistants, Nurse Practitioners, Nurses and APRN's, Physical Therapists, Occupational Therapists, Pharmacists, Psychologists, Social Workers and any health care professionals interested in providing quality care for our older population.

Room Accommodations:
Please contact Sleep Inn & Suites
1006 S. Haynes, Miles City, MT
406-232-3000
Ask for "Montana Health Network Group Block", prior to 11:59 pm on April 10, 2018

Thursday, April 12, 2018, 6:00 pm-8:30 pm,
Black Iron Grill,
&
Friday, April 13, 2018,
7:45 am-4:30 pm a
t
Sleep Inn & Suites,
Miles City, Montana.
2017 College Fairs
September 27, 2017
Beth attended four college fairs in Montana in September.
The college fairs are a tremendous opportunity to network and visit with hundreds of students that may be interested in a healthcare career as well as high school counselors around the region.
Each AHEC region attended the fairs that were located in their respective region. Beth had a table at Glasgow, Sidney, Glendive and Miles City. Total attendance for those four fairs was estimated at 1100 students.
The ability to promote REACH and MedStart Camps and AHEC in a concentrated area was invaluable.
Glendive REACH Camp
September 27, 2017
Ten students from Dawson County attended a Research and Explore Awesome Careers in Healthcare (REACH) Camp sponsored by Glendive Medical Center in Glendive on August 8th.
The students participated in many stations including; Infection Control, Lab, Acute Care, Long-Term Care, Radiology, Physical Therapy and Surgery.
It was a great day for the students that attended from Glendive, Richey and Wibaux. They completed stations at the hospital all day. Thanks to Amber Egan for planning and organizing this event.
MedStart Camp 2017
September 27, 2017
The 2017 North Eastern Montana AHEC MedStart Camp is in the books. This was the second year for the Miles City Camp and we increased our enrollment by half. It was a phenomenal success and went off without a hitch.
Thanks to the generosity of countless off-site hosts, various faculty presenters,sponsors, local professional presenters and the staff at Miles Community College, OneHealth and Holy Rosary Healthcare, MedStart Miles City 2017 was a great accomplishment. Here is a quick run-down of what these high school juniors and seniors participated in while they were in Miles City:
· MilesCommunity College introduction, overview and tour with Recruiter, Jessica Lofland
· Fitness activity with youth activity expert and advocate, Kyle Pryor
· Tour, overview of Trinity Hospital and Faith Lutheran Home in Wolf Point, tour and healthcare career explanations at Poplar Hospital, thanks to Robin Warren and Deanna First for making this happen
· MentalHealth First Aid activity and presentation with Nicole Bergman from Youth Dynamics
· MetiMAN demonstration and hands-on activities with Bobby Overbey, NE MT STAT Air Ambulance
· Lunch at Holy Rosary Healthcare
· OneHealth Montana Public Health Jeopardy game with Chelsea Jerke, Skye Arndt and Lindsay Bryan
· Billings Clinic Miles City presentation and tour with Carla Boucher and staff
· Noelle birthing simulation demonstration with MCC Nursing Instructors, Pauline Flotkoetter and Katrina Luther
· Makeyour own pizza night at MCC
· Miles City Fire Department overview and demonstrations with Casey Miller, Tanner Harbaugh and Justin Tretheway
· Job Shadows with local healthcare professionals at Holy Rosary Healthcare, Miles City Fire/Rescue, East Main Animal Clinic and Miles City Veterinary Clinic
· CPR training
· Farewell BBQ and games including Battle Balls at MCC with Bobby Russell, lead RA for the week. Bobby was in charge of evening entertainment and games all week and did a phenomenal job
· Students' In-A-Box final presentations and certificate presentation with Beth Brunk and Christine Williams from Montana Health Network
On July 20th, we sent 16 students back to Bainville, Baker, Columbia Falls, Crow Agency, Culbertson, Glasgow, Great Falls, Hardin, Ismay, Lewistown, Miles City and Shelby with new enthusiasm and knowledge for pursuing a career in the health sciences.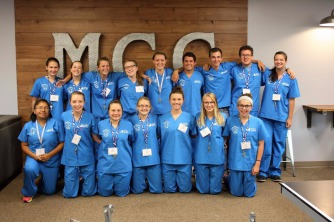 Safe Sitter Class
July 5, 2017
Please click on the following to access the
SafeSitter
flyer.
Continuing Education for EMS Providers
June 14, 2017
EMSContinuing Education…
Professionalism in EMS, LegalDocumentation in the Court Setting-By John Carlbom
When:Friday, June 16 at 1800
Where:Culbertson, Montana
When:Saturday, June 17 at 1300
Where:Scobey, Montana
Who:EMTs & Paramedics
Cost: $15.00per participant
Contact Montana Health Network at406-234-1424 and ask for Beth or Jody to register
Continuing education for EMS providers
April 6, 2017
Professionalismin EMS, Legal documentation in court setting
May 13, 2017, 1:00-3:30 pm
Montana Health Network, 519 PleasantStreet, Miles City, MT 59301
$15/participant
Course designed for EMTs & Paramedics
Instructor: John Carlbom,AEMT (NEMHS, Wolf Point EMS Supervisor)
John has beeninvolved in EMS for 20 years and has a background in Law Enforcement andCorrections. John started in EMS as with a volunteer service in Conrad, MT.Shortly after receiving his EMT, John joined the Emergency Training Center ofMontana and traveled throughout Montana teaching EMT courses, and EMT refreshercourses. It was at this time John realized Montana was shortEMT's. John started to travel as an EMT filling in for smallercommunities and worked a full time stint with Great Falls EmergencyServices. John has experience with 11 services, including participationwith medical stand by in North Dakota on fracking sites.
John hasbeen with Northeast Montana Health Services as the EMS Manager in Wolf Pointfor the last 4 years. John's responsibilities include balancing managerduties, pulling call, attending monthly meetings, and conducting a yearly EMTclass. John participates in several committees including LEPC, DUITask Force, and Montana Emergency Medical Services Association (MEMSA) boardmember.
To register for the class, call Montana Health Network at (406) 234-1424 or email Beth at bbrunk@montanahealthnetwork.com.