AHEC News
Updates from NEMT AHEC
HealthCARE Montana Steering Committee Meeting
August 3, 2015

HealthCARE Montana Steering Committee meets via GoToMeeting every other month on the first Tuesday. The next GTM is on September 1. On the off months, staff provides a written report. Face-to-face meeting will be yearly, but will also be provided via Go To Meeting. The role of the Steering Committee is to guide the project as a whole.
• Make sure there is communication between sub-committees
• Ensure delivery of the project outcome of revising nursing education to meet the changing Montana healthcare needs.

If interested in participating please contact Trudy Winslow at twinslow@montanahealthnetwork.com.
HealthCARE Montana Grant - Press Release
August 3, 2015

FOR IMMEDIATE RELEASE

Contact: Carol Bischoff
HealthCARE Montana Statewide Workforce Coordinator
406-202-0318

HealthCARE Montana – Creating Access to Rural Education
Training the Workforce of Tomorrow

Montana's population is aging and leaving the workforce, resulting in new demands on Montana's healthcare industry. In September 2014, Montana received a $15 million grant award through the US Department of Labor to expand opportunities for Montanans to train in healthcare careers. 15 Montana two-year colleges, community colleges and tribal colleges are working together to improve healthcare training opportunities in the state, with over 39 healthcare facilities agreeing to participate in the project. Before its expiration in 2017, the HealthCARE Montana grant will result in the completion of nearly 2,500 new one-year certificates and two-year degrees in healthcare careers.

45 of Montana's 56 counties are classified as "frontier" so colleges are tasked with creating more on-line and distance training programs allowing rural Montanans the opportunity to earn a one-year certificate or two-year degree without leaving their community. The grant is also instrumental in creating the first formal healthcare apprenticeship training program in Montana.
The grant targets adults including veterans, displaced workers, the unemployed, and the underemployed to fill the approximately 1300 healthcare positions available each year. "A strong economy requires a talented and trained workforce with the skills to fill the jobs that are most in demand, and this is especially true in Montana's growing health care industry," Governor Steve Bullock said of the grant.

Currently, Montana two-year colleges offer at least 31 two-year degrees and 20 one-year certificates in both clinical and allied health occupations. Most healthcare careers pay a higher wage than other occupations that require an equal length of training. According to The Montana Department of Labor & Industry 2024 Employment Projections, with a two-year associate's degree the average annual wage for a Registered Nurse is $61,814; Dental Hygienist is $68,591; and Radiology Technician is $53,377. The average annual wage for a Medical Assistant is $31,263; Pharmacy Technician is $33,408; and Dental Assistant is $33,202 which are one-year certificate programs.

The HealthCARE Montana project is housed within the University of Montana and works in partnership with the Montana Department of Labor and Industry and the Area Health Education Centers (AHEC) located in 5 regions throughout Montana. Staff working on the grant include Health Care Transformation Specialists who serve as liaisons between the grant and their college; Workforce Coordinators who serve as liaisons between the grant and healthcare employers, and Health Professions Career Coaches who work directly with students to identify careers that fit the interest and lifestyle of the student, assist students to prepare for and/or enroll in the program of their choice, and help to seek out available financial aid and funding for the student.

Anyone interested in more information on a training or apprenticeship program in a healthcare field can find a Career Coach in their region by visiting: healthcaremontana.org, or calling: Dorie at (406) 234-1400.
Billings MedStart Camp 2015
July 28, 2015

The Billings MedStart Camp ran from July 12th – 16th. There were 21 students registered with two being a no-show, but the 19 remaining students had a fabulous week.
Sunday was dedicated to checking into the dorms at MSU-Billings and getting acquainted and settling in. The RA's planned several fun ice breakers to get the students warmed up to each other.

Monday, the students attended a morning session with four different rotations at St. Vincent Healthcare followed by a tour of City College and an introduction to the many different healthcare career opportunities offered there. Later in the afternoon, the students visited with residents at St. John's Lutheran Home and participated in a scavenger hunt and dinner. This was a favorite stop of the week and the residents loved the students.

Tuesday, RiverStone Health, a community healthcare facility hosted the students all day as they participated in four different rotations; Population Health, Dental, Community Health and Environmental Health. They ended the day with a visit to Rocky Mountain College and a presentation and meet and greet with the Physician's Assistant Students followed by a picnic at Veteran's Park.

Wednesday was job shadow day at St. Vincent Healthcare. The students were fortunate to get placed in areas of interest for some valuable one on one shadowing with healthcare professionals. The afternoon session consisted of CPR training and certification and the day wrapped up with a Mustangs Baseball game.

Thursday, the students toured MSU-Billings, cleaned their rooms, received certificates of completion and headed home. It was a jam-packed week but a very valuable lifelong experience for these students.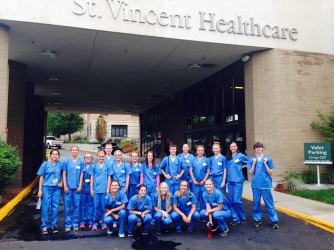 HealthCARE Montana Nursing PN and ASN Combined Curriculum Meeting Minutes
July 23, 2015

Copy and paste the following link into your browser to access the latest meeting minutes. https://files.acrobat.com/a/preview/c93b7225-2780-4f4c-8bd8-4a13607c29fd

"In-A-Box" Summer Kids' Class
July 7, 2015

Students participated in "Brain Bonanza" at Miles Community College in Miles City as part of Kids' Kollege. Beth Brunk, Project Coordinator for North Eastern Montana AHEC taught the class to an enthusiastic group of young students.

Known as the "Message Center" of the body, this fascinating organ acts as the body's computer. Students participated in fun, engaging, hands-on activities to explore this exciting part of the body. They learned fun facts, simple anatomies, common injuries and recovery. They completed several "hands-on" activities and enjoyed creating healthy snacks.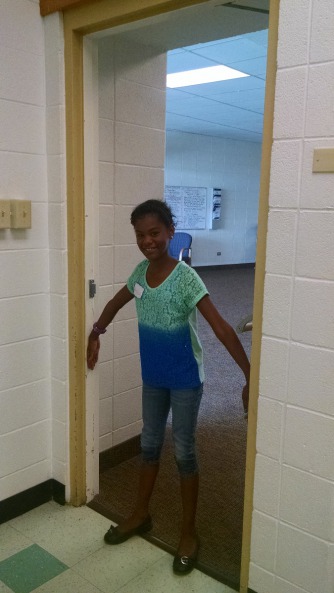 Welcome Health Professions Career Coach, Dorie Kenitzer
June 29, 2015

Dorie Kenitzer, the Health Professions Career Coach (HPCC) for the Northeastern Montana AHEC, assists participants with healthcare career choices by evaluating their prior learning skills and exploring interests and aptitudes.

Dorie helps participating students navigate through the education system so they can achieve their academic and healthcare career goals.

Dorie received her AA Degree in Education from Miles Community College. Her experience is in Early Childhood Education, the Tribal Foster Care System, and most recently as an Employment Coordinator through the Temporary Assistance for Needy Families (TANF) WoRC Program.

For questions, please contact Dorie at (406) 234-1424 or email at dkenitzer@montanahealthnetwork.com.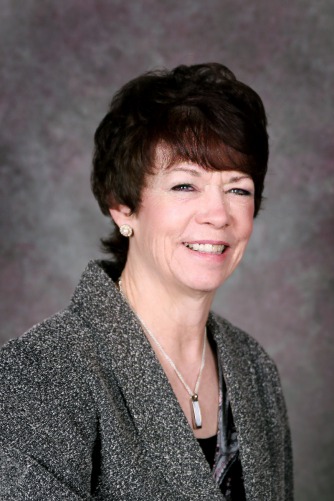 "In-A-Box" Summer fun at Miles Community College
June 23, 2015

Beth Brunk, Project Outreach Coordinator at NE MT AHEC taught Guts, Nutrition and Digestion at Miles Community College in Miles City as part of their summer kids' program, "Kids' Kollege."

Who knew exploring guts could be so much fun? Participants enjoyed several different hands-on activities and games while learning about nutrition and the digestive system. Surprising facts about restaurant food and effects on the body were discussed as well as many other fun topics. Attendees made (and ate!) an easy, healthy, tasty snack.

Brain Bonanza will be taught on July 7th at MCC. Contact Carolyn Kimball at MCC at 874-6164 to sign up.

Known as the "Message Center" of the body, this fascinating organ acts as the body's computer. Participate in fun, engaging, hands-on activities to explore this exciting part of the body. Learn fun facts, simple anatomies, common injuries and recovery. Participants will make a fun, healthy, "brain-fueling" snack.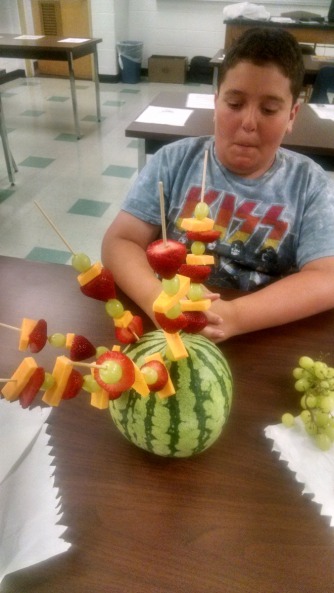 North Eastern Montana AHEC Office opens September, 2014
June 22, 2015

The addition of the NE MT AHEC Region based in Miles City marks the fifth AHEC region in Montana.

The NE MT AHEC office will serve all of the communities and healthcare facilities in fifteen counties in North Eastern and Southeastern Montana.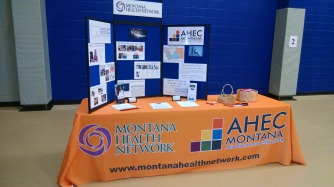 In-A-Box Series
May 6, 2015

The In-A-Box series has arrived and is available for checkout from our office. We currently have seven boxes:
• Bones and Muscle
• Brain
• Ear
• Eye
• Heart
• Mouth
Guts

Contact Beth to reserve one of these boxes.

Med-Start Camps, Summer 2015
May 6, 2015

Four MedStart Camps are scheduled in the State of Montana for summer 2015.
• Missoula, June 14th – 18th
• Billings, July 12th – 16th
• Butte, July 19th – 23rd
• Great Falls, August 2nd – 6th
The applications for all four camps are being processed through the NE MT AHEC Office.
This camp is an amazing opportunity for students to spend a week on a college campus and learn about healthcare careers and college life. Fun and educational events are packed into four days and nights.
The NE MT AHEC is co-sponsoring and assisting with the MedStart Camp that will be held on the MSU-Billings campus in July.
Scholarships are available for this camp and more funding opportunities arrive daily. The healthcare community is eager to recruit and retain young people in the healthcare field in rural areas and are very supportive of the students that wish to attend.