NEEDED - Equity and Community Outreach Engagement Coordinator
If you are looking for a new job opportunity, look no further. The Montana Health Network is offering a new position entitled Equity and Community Outreach Engagement Coordinator. If you are interested, please click on the
attached link
for more information. If you have any further questions or concerns, please contact Christine Williams, Director of Education, at cwilliams@montanahealthnetwork.com or call 406.234.1424.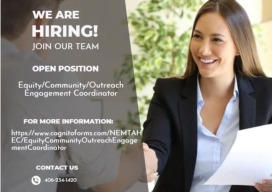 Get In Touch With Us
Talk with us about how we can help your organization offer employee benefits, get insurance coverage, provide ongoing education, or temporary staffing.