Course
Diabetes Today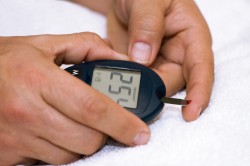 Course Description
On completion of this course the learner will be able to:
Define Diabetes Mellitus
Describe the pathophysiologic changes that occur resulting in Type I and Type II diabetes
Identify the different causes of type I and type II diabetes
Identify the symptoms associated with diabetes
Discuss disease diagnosis
Discuss disease management for Type I and Type II diabetes, including medical management and life-style changes.
Identify complications associated with diabetes and their prevention
Demonstrate the identification and treatment of three life-threatening complications associated with diabetes: Diabetic Ketoacidosis, Hyperosmolar Hyperglycemic Syndrome, and Hypoglycemia.


For more information, contact us.
Reissue a Certification Card
Did you lose a certification card that you earned at one of our courses?