Course
PALS Provider Course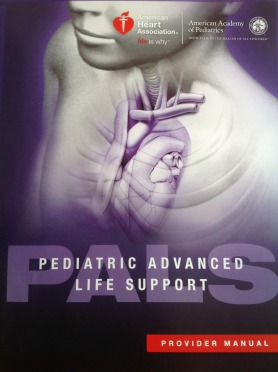 PALS Provider Course Objectives
After successful completion of the PALS Provider Course, the student will be able to:
1-rescuer child CPR and AED use
2-rescuer infant CPR 
Management of respiratory emergencies 
Rhythm disturbances and electrical therapy 
Vascular access 
Resuscitation team concept 
Cardiac, respiratory and shock case discussions and simulations  Systematic Approach to Pediatric Assessment 
Simulated pediatric emergencies teach and reinforce the important concepts of a systematic approach to pediatric assessment, basic life support, PALS treatment algorithms, effective resuscitation and team dynamics. 
Emphasizes the importance of basic life support CPR to patient survival, the integration of effective basic life support with pediatric life support interventions, and the importance of effective team interaction and communication during resuscitation
Schedule a Course
Full course requires approximately: 14 hours and 10 minutes, includes written exam and skills testing. If you would like more information or would like to schedule this course click montanahealthnetwork.com/course-request

Reissue a Certification Card
Did you lose a certification card that you earned at one of our courses?