Course
Introductory Hands-On Ultrasound Course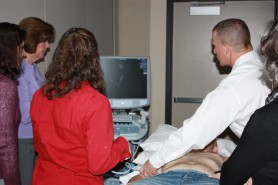 Objectives
·
Develop a basic understanding of how ultrasound works.
·
Introduction to studies that may help in clinical decision making, specifically: FAST exam (focused assessment with sonography in trauma, identification of intrauterine pregnancy, IV line placement, identification of abdominal aortic aneurysm, and evaluation for gallstones.
·
1/2 of scheduled time completing proctored ultrasound studies on live patients
.
Is this Course for me? How do I Register?
It is focused toward providers with limited to no ultrasound experiences.
All Clinical Professionals welcome
Focused for MD, PA, NP, RN or any clinical professional that may have an interest in using Ultrasound to make a clinical decision.
If you would like to Register for the course or request more information click here.
Reissue a Certification Card
Did you lose a certification card that you earned at one of our courses?