Course
S.T.A.B.L.E.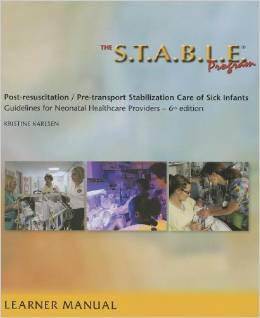 Who Should Take The S.T.A.B.L.E. Course?
Stabilization is a team effort! Therefore, any health caregiver involved with post-resuscitation and/or pre-transport care of sick newborns would benefit from the S.T.A.B.L.E. Program Learner/Provider course, including:
Physicians: Pediatric, ER, family practice, and obstetric physicians including residents
Nurses: RNs working in L&D, postpartum, nursery, emergency departments
Nurse midwives
Licensed practical nurses
Nursing assistants
Others: Respiratory therapists
Pre-hospital providers – Emergency Medical Technicians and Paramedics
Why was S.T.A.B.L.E Developed?
Hundreds of times each day, in hospitals and communities around the world, newly born infants become ill and require specialized care. Each member of the health care team—nurses, physicians, therapists and assistants—must know what to do for the sick infant. Their care must be provided in a timely, efficient, anticipatory, and effective manner. This early transitional care affects not only the immediate health of the infant, but also the infant's long-term outcome. The S.T.A.B.L.E. Program was developed to meet the educational needs of health care providers who must deliver this important stabilization care. S.T.A.B.L.E. education is critical to the mission to reduce infant mortality and morbidity and to improve the future health of children and their families.
Reissue a Certification Card
Did you lose a certification card that you earned at one of our courses?