Course
ACLS HeartCode®-Hands on Session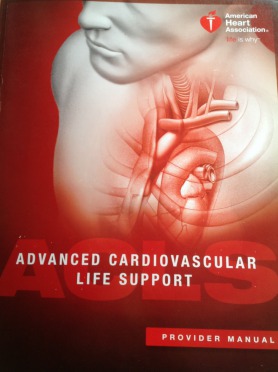 ACLS HeartCode® Objectives
After successfully full ACLS Course (HeartCode ACLS online portion, followed by hands-on session), students should be able to:

• Apply the BLS, Primary, and Secondary Assessments sequence for a systematic evaluation of adult patients
• Perform prompt, high-quality BLS, including prioritizing early chest compressions and integrating early automated external defibrillator (AED) use
• Recognize and perform early management of respiratory arrest, ACS, and stroke, including appropriate disposition
• Recognize and perform early management of bradyarrhythmias and tachyarrhythmias that may result in cardiac arrest or complicate resuscitation outcome
• Recognize and perform early management of cardiac arrest until termination of resuscitation or transfer of care, including immediate post–cardiac arrest care
• Model effective communication as a member or leader of a high-performance team
• Evaluate resuscitative efforts during a cardiac arrest through continuous assessment of CPR quality, monitoring the patient's physiologic response, and delivering real-time feedback to the team
• Recognize the impact of team dynamics on overall team performance and discuss how the use of a rapid response team or medical emergency team may improve patient outcomes
• Define systems of care
Schedule a Course
Online portion: Approx. 6.5 to 7 hours (purchase separately). Online portion, includes written exam.
Hands-on Session: Approx. 5 hours. Structured, Instructor-led hands-on session includes video review, skills practice and testing.

If you would like more information or would like to schedule this course click montanahealthnetwork.com/course-request
Reissue a Certification Card
Did you lose a certification card that you earned at one of our courses?