Course
Certified Nursing Assistant (CNA) -Online Training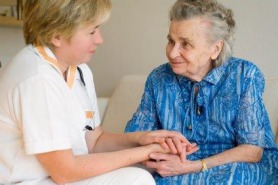 Course Description


The MHN Nursing Aid curriculum will prepare students for careers in healthcare under the supervision of the Licensed RN or LPN. Students learn the basic entry-level nursing skills to work in the healthcare setting as a Certified Nursing Aid. Curriculum includes providing or assisting in client care, bathing, dressing, grooming, toileting, ambulation, transferring, feeding, and use of equipment, documenting, and reporting the general well-being of the resident.
Theory and clinical study will provide necessary information and skills needed in long-term, home care, and acute care settings to take the Montana Department of Health, State Competency Evaluation Examination, which is required for the Nursing Assistant State Registry. The State exam includes written (computer) as well as a clinical (skills) portion. Testing is through and examples are available online at www.hdmaster.com. Class applications are due completed ten days prior to start day of class. For more information
click here
.
Course Information
Course Objectives:
Upon Completion of the Nursing Assistant Course, the student will be able to:
1. Use medical terminology accurately.
2. List a resident's rights in long term, home care, and acute care settings.
3. Recognize & report resident behavior that reflects unmet human needs.
4. Recognize changes in the resident's condition and report the changes to the nurse.
5. Demonstrate effective communication skills for long term care (LTC) residents as well as the cognitively impaired.
6. Use standard precautions when caring for all residents.
7. Practice safe body mechanics during the care of residents.
8. State the CNA's rolein the healthcare team.
9. Safely demonstrate all the CNA skills requirements as outlined by the State and Federal regulations.
10. Accurately documentand report observations and care given for normal and abnormal conditions.
11. Demonstrate reliability and responsibility in the CNA role in class and in the Clinical setting.
12. Work with and under the direction of the RN &/or LPN in a structured health care setting.
13. List changes seen and experienced in the aging process as well as pathophysiology, signs and symptoms of common diseases and conditions and how care can be altered to accommodate these changes.
Course Prerequisites:
Students must provide proof of the following health requirements prior to enrollment in the program:
1. Tuberculosis testing using the two step PPD or chest x-ray (Positive results requires a physician's letter before a student can work in the clinical setting).
2. Up-to-Date Diphtheria-Tetanus /Pertussis-Tdap vaccination.
3. Up-to-Date MMR vaccination
4. Influenza Virus Vaccine (in season).
5. Current Healthcare Provider CPR/BLS card (MontanaHealth Network does offer this course if you need it).
Reissue a Certification Card
Did you lose a certification card that you earned at one of our courses?